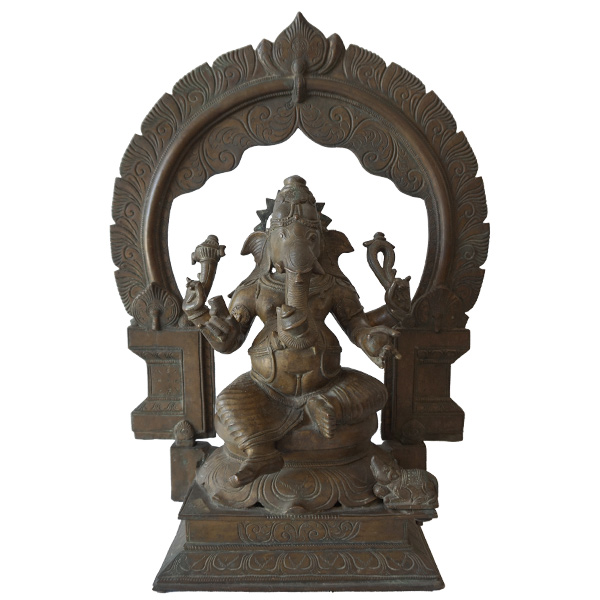 OLD BRONZE GANESH STATUE    18-3/4″
A fine example of an old (year unknown) Bronze Ganesh with a removable prabhaamandal (halo) and rat. Created using the lost wax process which means that this is an original piece, in which only one was created in the casting of. Has a very nice aged patina indicating years of weathering. This piece is an artistic rendering of the deity Ganesha. It was found by our dealer to use as a model for newer brass castings of Ganesha. To see a new example of this casting please view our 12-3/4″ Ganesha page.
Dimensions:
15″ (W)  x  7″ (D)  x  18-3/4″ (Ht)
Weight:
40 lbs – 3.4 oz.
Material:
Lost wax Bronze
Origin:
Swamimalai, Tamil Nadu, India
Age:
Vintage – unknown older age
Condition:
Excellent
Sku:
GN-3
Price:
$2550.00 / includes shipping lower U.S.
Ordering from us is simple!  We use Square.com to invoice you.  Your online payment is very secure and we never see credit card information. When you contact us with your desired purchase, we will send an invoice to your E-mail address. Click on the Square link and enter your payment information. Upon receipt of payment we ship immediately. It's as simple and secure as that! Please email us or call for ordering or more information.
Thank you for trusting our site –  Kurt & Lydia Scherer