---
Kachin Amber from the remote north of Myanmar
Our Amber comes directly from the Kachin Tribe in the Hukawng Valley of Northern Kachin State of Myanmar. Burmese Amber ( Burmite ) is considered the oldest on Earth, at least 90-100 million years old from the Cretaceous Period. Due to it's age it also has a hardness that takes a very high polish but also can be a little brittle. Recently Burmese amber has been in the news due to the exciting discovery of ancient exotic species and the findings of actual feathered tails and other parts.
Please note:
If you are looking for a softer amber such as Baltic amber, Burmite is different due its very hardness. These are also tribal pieces with original stringing. We also have a selection of loose polished amber with plant inclusions and some with insects which are perfect for pendants. On request we can send photos.
Watch this YouTube video on the Kachin amber polishers and their plight.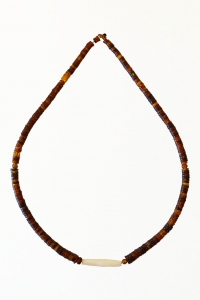 Kachin Amber Necklace with Pendant
(#4)
Kachin tribal dancers necklace. Dark yellow to golden brown flat round beads, with 2 round accent beads that vary from yellow to reddish brown, and one cylinder bone bead, graduated size on thread. Many plant inclusions.
Size:
15-3/4″ L.  Beads range in size from 1/4″ – 1/2″.  Cylindrical bone bead is 2-3/16″ L. x 3/8″ Dia.
Price:
$175.00     
---
Please feel free to contact us for purchasing items or for any additional information & detailed images.
We also sell Amber beads separately.