We carry a selection old furnishings from the varied places and periods of India. These early pieces were handcrafted from solid old growth tropical hardwoods. Woods such as teak, mahogany, rosewood, satinwood and ebony. Any newer pieces we carry  are crafted from repurposed hardwood beams taken from old haveli's that have been salvaged.
Older cabinet that is newer painted with classic Indian & Rajasthani scenes. Four drawers & two sets of two doors each.
66-1/2″ W x 16-1/2″ D x 51-5/8″ H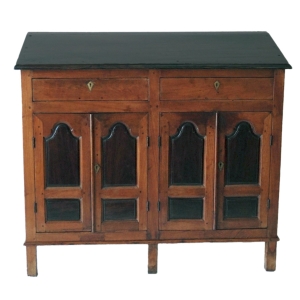 Antique two door cabinet with a slanted rosewood top on which a person would stand while writing. Restored and wax applied as a finish.
44″ W  x  20″ D  x  37″ H
$1,950.00 shipping incl. U.S.
Old cabinet in the classic Portuguese colonial style with rosewood trim and drawers.
33″ W (37-1/2″ w/crown)  x  18″ D (20-3/8″ w/crown)  x  44-3/8″ H
 $1,750.00  shipping  incl. U.S.
Sold 
 French Colonial Armoire
Rosewood almirah from Pondicherry, India. Glass upper doors, interior drawers, deep shelves. Exquisitely carved rosette and lion foot legs. An rare piece. Late 19th C.
50-1/2″ W (57-5/8″ w/crown)  x  19-1/4″ D (22-1/2″ w/crown)  x  82-3/8 H
$6,500.00  includes shipping continental U.S.
Old teak almirah/armoire from Rajasthan, India. Lots of hand planed crown moulding detailing.
24-3/4″ W (28″ w/crown)  x  15″ D (17″ w/crown)  x  59-3/4″ H
Ordering from us is simple!  We use Square.com to invoice you.  Your online payment is very secure and we never see credit card information. When you contact us with your desired purchase, we will send an invoice to your E-mail address. Click on the Square link and enter your payment information. Upon receipt of payment we ship immediately. It's as simple and secure as that! Please email us or call for ordering or more information.
Thank you for trusting our site –  Kurt & Lydia Scherer