Stone Basins & Granite Pillars
StoneHouse Artifacts wouldn't be living up to it's name if we didn't offer a selection of granite and stone items for outdoor landscaping and designers. We carry a large inventory of stone pillars- columns from the Chettinad region of Tamil Nadu, India. They can used singularly by themselves, or together when creating a garden trellis. Being granite they will last forever. Our granite basins are popular when used in conjunction with a granite watercourse-Yoni's as low water features in the garden and even as bird baths. They can sit above ground exposing all the patina of the hand carving or partially buried to appear as small water features in your garden. Granite rice-grain grinders make another great bird bath and are great even as planters.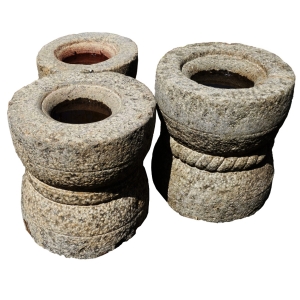 Granite Rice Grinders
Grain Grinders made of stone.  These granite mortars are traditional and have been used for centuries in India and Southeast Asian countries.  They make stunning bird baths or garden ornaments. 18 available.
Sizes:
Ranging from 11″ dia.  x  10-1/4″ (H)    to   13-1/2″ dia.  x  13-1/2″ (H)
Weight:
75 – 160 lbs. weight range
Year:
at least 100 years or older.
Price:
$80.00   (large)
$60.00  (medium)
 Large Granite Watercourse
Granite Watercourse, hand carved. Use for landscape design as a water feature, also as a yoni for a Shiva Lingam. A very large and classic shape.
Size:
19″(W) x 21-3/4″(L)  x 9″(D) x 70-3/4″(total length)
Channel size:    1-1/2″ (D)  x  2″ (W)
Weight:
370 lbs.
Year:
19 C
Price:
contact us for quote
Chettinad Stone  Columns
Granite pillars from large haveli's/mansions found in the Chettinad district of Tamil Nadu. They were both used in the interior courtyards and exteriors of these amazing homes. On the bottom are carved symbolic naga's/cobras on each of the four corners. On the top would have been a Burmese teak capital.
10 now columns available
Sizes:
9-1/4″( W) x 9-1/4″(D) x 60-63″ (H)  (average size range/some smaller and bigger)
Year:
Old/ much weathering of the stone
Weight:
253 – 265 lbs
Price:
$425.00 each
 Sandstone Wall Niches
These old sandstone oil lamps were built into the masonry walls surrounding the rooms and court yards of large haveli's. They were also used for the Diwali Festival of Lights.  Collected from these salvaged buildings in India we have a large assortment . Use as a niche in your home, or outside in the garden.
Sizes:
8-1/2″( W)  x  6″(D)  x  9″ (H)  (average size range/some smaller and bigger)
Year:
Old / much weathering of the carvings
Weights:
20 – 28 lbs.  (weight range)
Price:
$125.00 each    
Ordering from us is simple!  We use Square.com to invoice you.  Your online payment is very secure and we never see credit card information. When you contact us with your desired purchase, we will send an invoice to your E-mail address. Click on the Square link and enter your payment information. Upon receipt of payment we ship immediately. It's as simple and secure as that! Please email us or call for ordering or more information.
Thank you for trusting our site –  Kurt & Lydia Scherer