Plantation Chairs & Antique Benches
From Kerala, India comes the classic veranda – plantation chairs seen in so many images from the old days past. Finely crafted in recycled old teak or rosewood with newly caned seating and backs in varied patterns. These chairs have adjustable backs and 'leg rests' that swing out for relaxing.  We also provide the more traditional and older chairs of this type that we have newly recaned to last future generations.  Our stools are also crafted of beautiful old teak and rosewood so there is no fear of joints opening up from shrinkage.
We carry antique benches from throughout India, from old temple benches covered in 'German Silver' to simple wide plank old church benches from the colonial period and garden benches made for the outdoors.
Coming soon a new shipment of antique Chakki's, old grain grinding tables.  Always a best seller for their use as low tables in todays decor.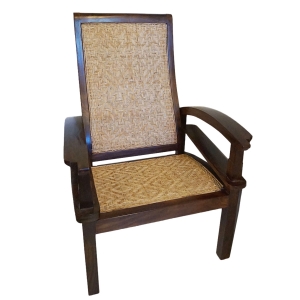 Plantation Chair – Rosewood
New Verandah Chairs. Rosewood with caning, styled after British Colonial easy chairs. Reclines with an adjustable back. Two arms swing out to rest your legs on, plus a swing out cup holder. Chairs also available in teak wood. All made from recycled wood. Finish is a hard varnish.
Size:
25-3/4″ (W)   x   35-3/8″ (D)   x  37″ (H)
13-1/4″ seat height
Weight:
19 lbs.
Year:
New
Price:
$575.00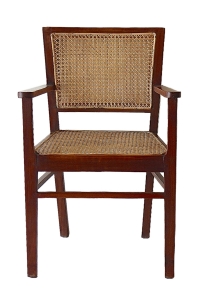 Teak Cane Chair
Mid century teak armchairs with caning. Traditional style canework on seat and back. Modern style chair. Set of four. Two of the chairs have slightly cracked caning.  Photos by request.
Size:
22″(W)  x  21″ (D)  x  34″ (H)
18″ Height of seat
Weight:
14 lbs. 8 oz.
Year:
Mid 20th C.
Price:
$200.00 each    SOLD
Temple Bench
Formally used in a Jain temple in Rajastan, this bench is made of wood and covered in brass on top and front. The sides and lower feet have an aged red paint. Detailed  work through out with nice aging.  Cushion is 4″ thick and newly made with a fine tapestry fabric in keeping with the bench's style.
Size:
63″ (L)  x   17-1/2″ (W)   x  14-1/2″ (H)
18-1/2″ with cushion
Weight:
112 lbs. – 14 oz.
Year:
Early 20 C.
Price:
$2,350.00       SOLD
Ordering from us is simple!  We use Square.com to invoice you.  Your online payment is very secure and we never see credit card information. When you contact us with your desired purchase, we will send an invoice to your E-mail address. Click on the Square link and enter your payment information. Upon receipt of payment we ship immediately. It's as simple and secure as that! Please email us or call for ordering or more information.
Thank you for trusting our site –  Kurt & Lydia Scherer