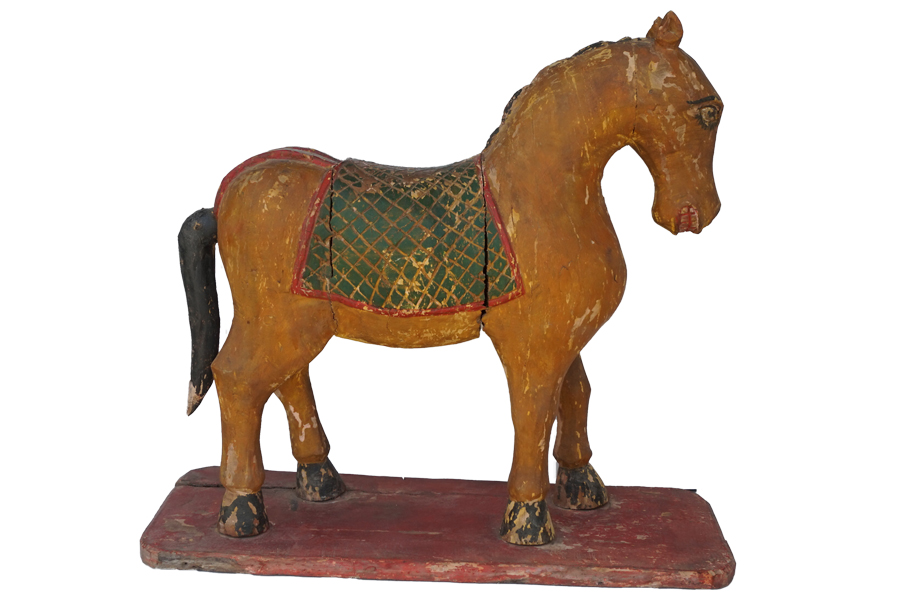 Folk art wooden horse on wooden base (can be removed). Carved from teak wood, it's heavy and solid. Nice vintage patina. Wear and patina consistent with age and use.
Size:
Horse:   22″ (L)   x  6-3/4″ (W)   x   22″ (H)
Including base:  24″(L) x 8″(W) x 22″(H)
Weight:
26 lbs. 2 oz.
Year:
vintage – age unknown
Condition:
Good condition, wear consistent with age
Price:
$315.00  includes shipping to continental U.S
Ordering from us is simple!  We use Square.com to invoice you.  Your online payment is very secure and we never see credit card information. When you contact us with your desired purchase, we will send an invoice to your E-mail address. Click on the Square link and enter your payment information. Upon receipt of payment we ship immediately. It's as simple and secure as that! Please email us or call for ordering or more information.
Thank you for trusting our site –  Kurt & Lydia Scherer